Subscribe us on
A new trend that is gaining popularity on social media platforms like TikTok is "dry scooping" or the practice of consuming a spoonful of protein powder without diluting it in water. Fashion, which is supposed to give a greater boost of energy for a longer, harder workout, is dangerous, experts warn.
Why is it not advisable?
Protein powders are known to be made from a blend of amino acids, B vitamins, caffeine, creatine, artificial sweeteners, and other ingredients. Thus, careful consumption of these ingredients can create health problems. According to the Cleveland Clinic, it is common for pre-workout supplements have 150 to 300 mg of caffeine per serving. The potential dangers of consuming too much caffeine include the risk of insomnia, anxiety, dehydration and abnormal heartbeat, according to the National Institutes of Health.
While the ingredients can help increase endurance before a workout, consuming additional energy boosters does come with some risks. "For example, consuming too much caffeine can increase the risk of heart problems," said Deepti Khatuja, clinical nutritionist, Fortis Memorial Research Institute, Gurgaon. indianexpress.com.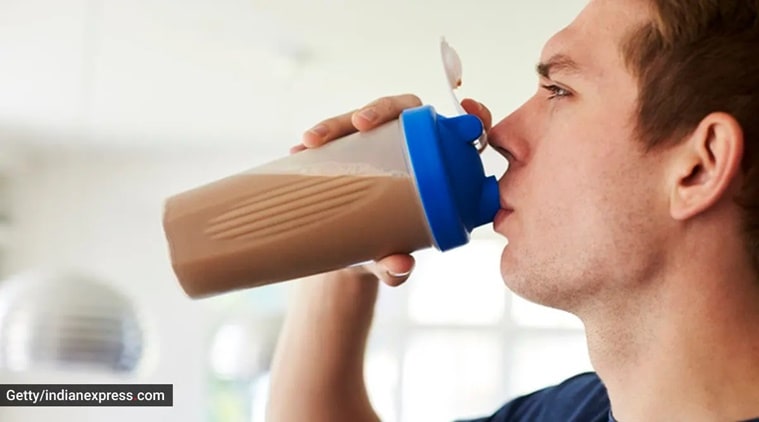 Protein powders should be diluted with water. (Photo: Getty / Thinkstock)
Where does the trend come from?
According to dailyhealth.com, one TikTok user – kimg966 – shared a dry recovery video in late May 2021, racking up more than 7.6 million views. In it, she tries to swallow a capful of powder, but spits it out before she can even consume the water. Another user reportedly suffered a heart attack because of the fashion.
Why do we need to be cautious?
The viral challenges of social media, which are followed blindly by young people, poses many physical and mental challenges, experts say. "This latest mode of 'dry scooping', which involves users taking a protein powder ball without diluting it with water has already led to unfortunate incidents. I would ask children not to take on such insane challenges, as ingesting protein powder alone can lead to heart and lung attacks – and even death. The highly concentrated powder can lead to suffocation, accidental inhalation, overuse injuries and death, "said Dr Shuchin Bajaj, Founder and Director of Ujala Cygnus Hospital Group.
A ball of powder could contain as much caffeine as five cups of coffee, which makes it unsafe to consume, experts say. "This can further increase the risk of hypertension or increased heart rate, and accidentally inhaling the powder into the lungs could cause choking, infection or pneumonia," Khatuja noted.
?? For more lifestyle news, follow us on Instagram | Twitter | Facebook and don't miss the latest updates!